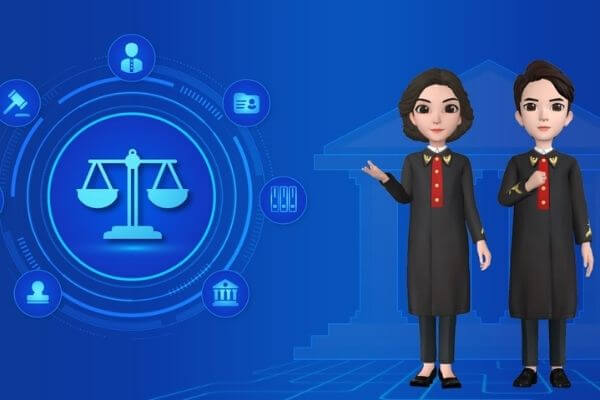 Here's a step-by-step guide to accessing China's virtual court proceedings through the app 'China Mobile Micro Court'.
As Chinese courts have enabled foreign parties to access the online case filing system, you can now remotely complete all court proceedings online.
The Provisions recently issued by the Supreme People's Court (SPC) on Providing Online Case Filing Services for Parties to Cross-border Litigation ("the Provisions", 关于为跨境诉讼当事人提供网上立案服务的若干规定), as discussed in an earlier post, has paved the way for foreign parties to register a case in a Chinese court.
So, how can a foreign litigant use such function?
The function is integrated into a web app operated by the SPC, namely "China Mobile Micro Court" (中国移动微法院), which, for the moment, can only be found on WeChat, a Chinese mobile social platform.
Therefore, to start with, you need a WeChat account (https://www.wechat.com/en/) so as to use this function
You need to install the WeChat app on your phone, register an account, and finish all the steps on your phone.
In order to facilitate you to upload documents from your computer, we also recommend you to install the WeChat app on your computer. WeChat app has been developed both for Windows and Mac OS. But based on our current experience, the web app can only be logged into via WeChat of the latest Windows version by far.
We now introduce how to use it by taking WeChat of the PC windows version as an example.
After starting WeChat of the windows version, you need to scan the QR code on the computer screen using the WeChat app on your phone, and then you can log into your WeChat account on your computer.
Then, in the left column of WeChat, you can find the three icons at the bottom. The first is a slanted S, which is the access to all WeChat web apps, i.e. the so-called mini-programs in WeChat. Please click this icon.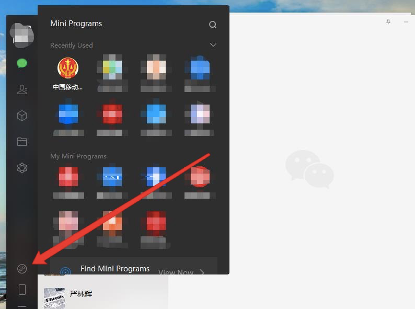 You can click here to search.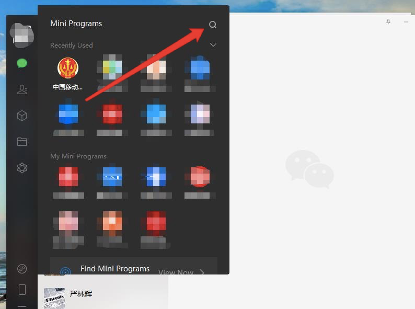 Search for "中国移动微法院" (China Mobile Micro Court) in Chinese.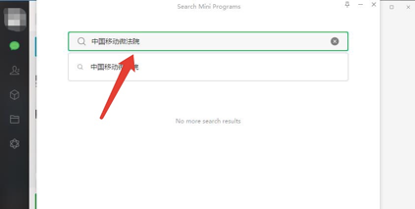 The first one is the mini program we want to access.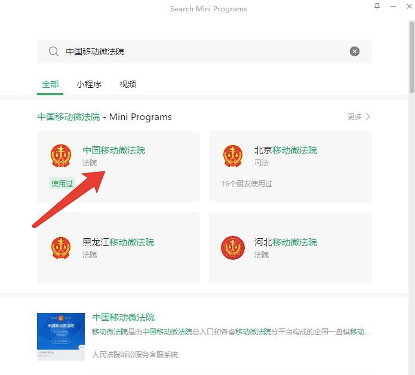 After accessing this mini-program, simplified Chinese is set on its interface by default. If you want to use it in English, you can click the button on the upper left corner to change the language.
You can see your WeChat account ID on the homepage.
Your ID will be marked as "unauthorized". You can click here to "accept the agreement", verify your mobile phone number, and fill in real-name information.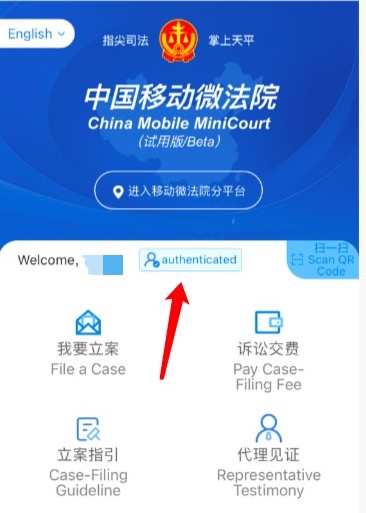 Here, you can find that the program does not let you verify your foreign nationality, but directly asks you to fill in the ID number, such as the passport number. However, your foreign passport cannot be used directly.
We assume that you need to first directly contact the Chinese court that accepts the case, and after sending notarization and certification documents for your identity, the court will record your information into the system before you can log into the mini program. Or, you can entrust your attorney to log into the program and submit notarization and certification documents for you online.
From this point of view, it is not very convenient for foreign parties who use the program for the first time. We expect that SPC will further optimize this process.
Once you have verified your identity, you can use all the functions of the mini-program by yourself, including verifying the process of entrusting a Chinese lawyer online.
In addition, if you want to file a new lawsuit in the future, you can register the case directly by yourself, without identity verification again, which will make it easier for you.
However, more issues may be raised here: as you submit your identity information to the Chinese court, how will your personal data be protected? Do Chinese courts need to comply with rules similar to GDPR? We will continue to discuss this issue later.
Contributors: Meng Yu 余萌